back to insights
next insight
ServiceNow named a Gartner Peer Insights Customers Choice for ITSM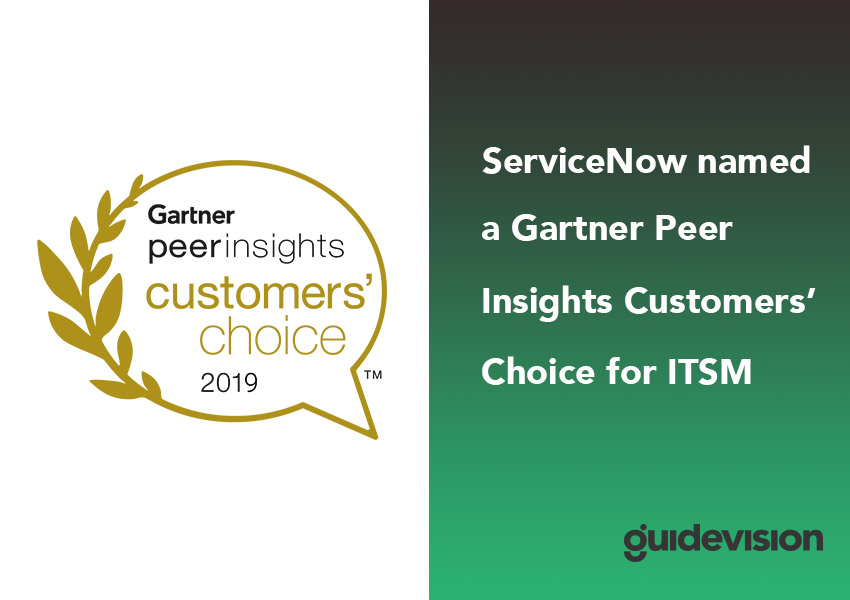 ServiceNow has been named a Gartner Peer Insights Customers Choice for ITSM for the second year in a row. Gartner, considered the world's leading research and advisory company, recognizes companies in its Peer Insights Customers Choice programme on the basis of customer feedback from more than 255,000 verified customer reviews across 355 defined markets. ServiceNow was recognised in the ITSM category.
"This recognition serves to confirm our own decision that ServiceNow is an excellent platform that provides customers with a solid platform to support their business activities. Having our roots in software development, we know great tech when we see it, and that's why we love ServiceNow," said Pavel Müller, co-founder of GuideVision.
Gartner's market insights in the IT business and beyond are considered among the best worldwide.
To qualify for Gartner's Customers' Choice distinction, vendors must have a product that is aligned to the market, have their overall rating (out of 5 stars) equal to or higher than the mean rating for that market, and meet its review coverage requirements. 6 other companies were named in the ITSM space.
By far, the largest number of ratings were for ServiceNow, confirming its position as a market leader. "These scores show that ServiceNow had a consistently high score across the most ratings of any other company in the space - companies know and love ServiceNow for its flexibility, power and overall consistency," Pavel Müller said.
As a ServiceNow Elite Partner, GuideVision is among 51 companies worldwide who fulfill its exacting criteria. "We've successfully completed more than 400 ServiceNow implementations worldwide and have a customer satisfaction rating well above 9 out of 10," Müller said. "This shows that we keep our promises and consistently meet customer expectations."
Gartner updates its Peer Insights Customers Choice recognition every November. The recognition is only based on reviews from registered and verified users. Only reviews submitted and published during the 12 month eligibility period (retrospective from sourcing deadline) are considered in the analysis for Customers' Choice distinction. Gartner publishes its criteria for its Peer Insights Customers Choice here.
A maximum of seven vendors are named a Customers' Choice in a market. In markets where more than seven vendors meet and/or exceed the criteria listed above and the market mean overall rating, only the seven vendors with the highest Product Adoption Review Coverage (PARC) score within the eligibility period will be named as a "Customers' Choice" designee. If there are two or more qualified vendors tied on the 7th highest PARC score, each of the tied vendors will receive a distinction.
"It's clear that ServiceNow is the market leader in the ITSM space, and since its founding in 2014, GuideVision has built up a strong business providing a full spectrum of services based on ServiceNow, from strategic advice and business consulting to top-quality implementations and bespoke software development to training and service" Pavel Müller said.
"With offices in 7 European cities, we believe GuideVision is uniquely positioned to provide truly effective services based on ServiceNow. We deliver what we promise, and customers appreciate that."
To find out more about how GuideVision can bring its expertise to bear for your business, please get in touch with us.