back to insights
next insight
GuideVision celebrated Go Live at Now at Work in Frankfurt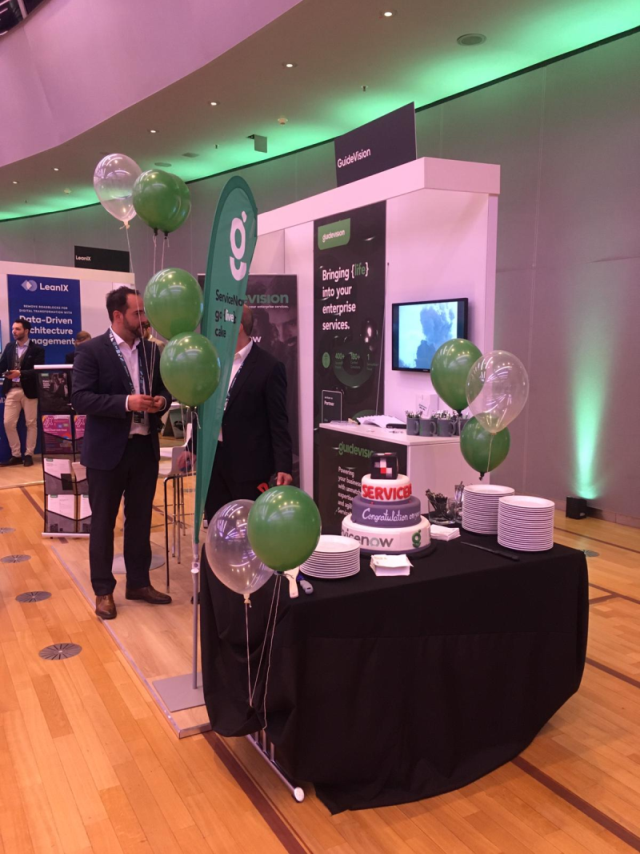 30th of October 2019, it's been that time of the year again: Future of Work (FoW) Forum in Frankfurt. The biggest ServiceNow convention in Germany, more than 1500 people attended and of course GuideVision was there as well.
The day of the event it quickly started to fill up at the exhibition area after the first keynote and we got to meet a lot of familiar faces who visited GuideVision. With the best location right at the entrance, some great articles, success stories and fancy goodies, we raised a lot of attention.
ServiceNow decided that they will bring Serviceplan together with GuideVision on stage at the IT-Workflow Keynote to talk about the project and hand over the Go Live cake. Peter Haitz and three colleagues from Serviceplan had around 10 minutes on stage where they went through the project. As you might think, there was a great audience during the keynote. It was very special as we were the first and only partner ever during the entire convention who had the chance to celebrate on stage.
The day went by having a lot of different conversations and interviews with ServiceNow colleagues as well as other partners and potential leads. We got the chance to meet a huge amount of people and tell them about GuideVision and our concept on how we deliver valuable services.
We are very happy and proud about this successful event. Now we are looking forward to follow up on all the leads and opportunities to continue with multiple more success stories on stage of ServiceNow.
Thank you to all who have been involved and supported us in making this event successful.