back to insights
next insight
GuideVision and Quality Clouds Partner to deliver the best quality to their ServiceNow customers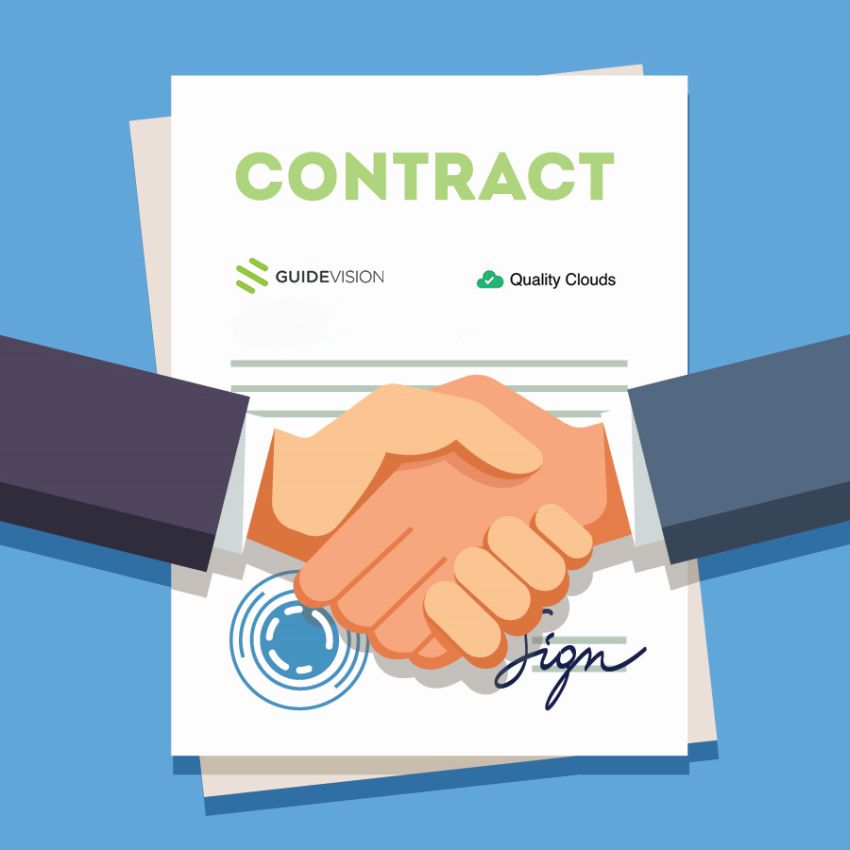 Prague, January 2019.
GuideVision, the Gold Services Partner of ServiceNow and Quality Clouds, the governance and quality monitoring solution for SaaS platforms announced today that they have forged a partnership to deliver the highest possible quality to ServiceNow customers.
Every company must constantly evaluate its processes and think of how to improve them. Managing those IT processes is a huge challenge in most organizations. As time goes, new technology becomes available. GuideVision uses Quality Clouds 'automated non-invasive and zero deployment tool for analyzing IT processes in enterprises. This valuable partnership compliments GuideVision's professional services offering and makes it easier to deliver the most suitable solution to enterprise companies looking for industry-leading standard for the maintenance and continuous development of their ServiceNow environments that enhance IT service visibility packaged with first-class services.
There are several ServiceNow gold partners and each of them has his own way. GuideVision's key to success is quality. Quality has many aspects. One of the aspects is quality of code. Quality of code is an essential property of software because it can lead to financial losses or waste of time needed in the future. GuideVision is proud, that it has a multi-level process to check quality code which makes a difference from competitors on the market. Quality Clouds brings the additional level to this process.
"The quality of the final delivery is a top priority on all GuideVision projects. Our clients expect and deserve quality support and it is our business to deliver it." said Roman Albrecht, Head of Delivery, GuideVision.
Increasing competition is forcing businesses to pay much more attention to satisfying customers, including by providing strong customer service. Quality is number one priority for GuideVision. Partnering with Quality Clouds helps GuideVision to continuously maintain one of the highest CSAT ratings among the ServiceNow partners.
Albert Franquesa, CEO & co-founder of Quality Clouds, adds: "We are pleased to have GuideVision as a strategic partner. This is the beginning of a great relationship and we will work hard to add new features to the product with GuideVision suggestions, such as the new bot for admins. With the adoption of Quality Clouds for ServiceNow, GuideVision is sending a clear message to the market that it believes in the power of good software quality to give an organisation competitive advantage by reducing costs and increasing effectiveness in their SDLC. Because quality is not a one-off thing but a continuous process which needs to be embedded within the organisations."
About GuideVision
GuideVision provides world‑class consultation, implementation, training, and support services to enterprise customers along the ServiceNow platform. Our consultants have the knowledge and experience to understand your business needs and requirements and prepare the best solution that will support your digital transformation initiatives.
For more information, please visit guidevision.eu
About Quality Clouds
Quality Clouds is an automated code analysis solution for cloud-based platforms that enables organisations to improve code, monitor quality and add development governance at the same time. It helps also to identify areas that need code refactoring, changes done to code that might affect the next SaaS upgrades, vendor and JavaScript best practices not followed and much more. Each time the tool runs, it reports back a full set of actionable data so that teams can improve quality. It allows organisations also to define their own rule-sets. Quality Clouds is already available for ServiceNow, Salesforce and Office365 platforms.
For more information, please visit qualityclouds.com