back to insights
next insight
Combining ServiceNow and Tanium for modern IT workflows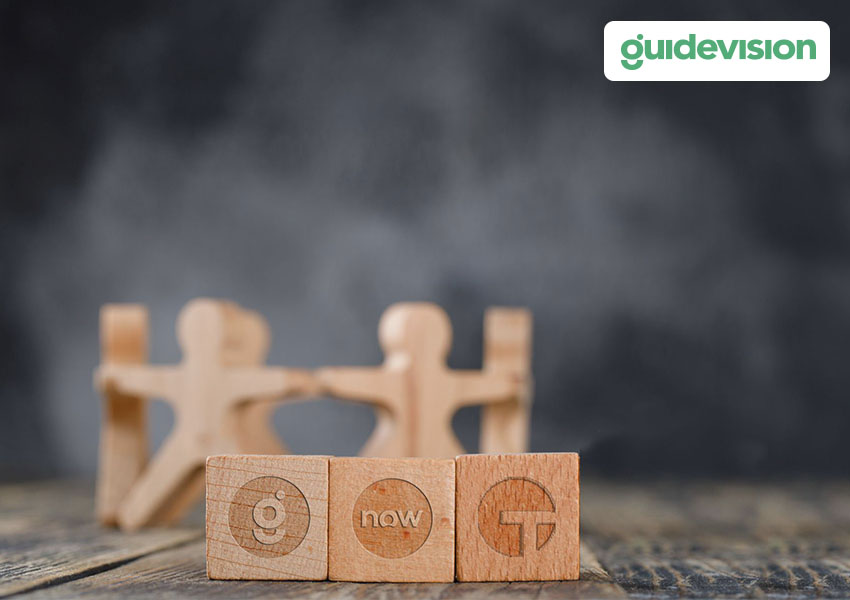 GuideVision - ServiceNow Elite Partner to provide consulting on the ServiceNow and Tanium platforms
Business collaborations are extremely valuable in today's world. GuideVision sees it this way as well, and is building on a partnership with two IT service providers, ServiceNow and Tanium.
Three companies, one goal: Working more efficiently in the digital age
The ServiceNow cloud platform enables people to work better and more efficiently by replacing unstructured work patterns with intelligent and automated workflows. Manual working methods are converted into modern and digital processes.
As one of ServiceNow's top 10 Elite partners worldwide, GuideVision helps its customers to implement their enterprise service management with ServiceNow's workflow digitisation. With more than 200 consultants at 7 locations in Europe, GuideVision can already look back on more than 400 successfully completed projects. GuideVision's secret of success is not only a combination of strategic expertise, agile methodology, and technical know-how, but also close cooperation with ServiceNow.
GuideVision recently began working closely with Tanium, and Tanium also cooperates with ServiceNow. The Tanium platform solves the security and IT management challenges organizations face by providing lightning-fast ability to capture all assets and execute for example software patching in computer networks – with unparalleled scale. Tanium's approach gives large corporations and government institutions the ability to quickly capture and manage their entire IT infrastructure. IT teams thus have a holistic and precise overview of all of their IT endpoints in order to uncover security risks and implement a new level of cost-efficiency.
The Tanium approach, now for ServiceNow
Tanium and ServiceNow can be combined into a powerful solution that can be used to manage IT and software assets more efficiently, automate patching and compliance, and create a consistent real-time CMDB. With Tanium, legacy IT assets within the ServiceNow environment can be identified in a matter of seconds and thus better managed in the future. On the other hand, ServiceNow enables existing assets to be upgraded to modern workflows in order to make processes more efficient.
GuideVision consulting
As part of this new collaboration and as a ServiceNow Elite Partner, GuideVision has now started to introduce its clients to the benefits of including Tanium's products and services into their ServiceNow adoption and implementation strategy.
GuideVision is a dynamic and progressive ESM consulting company that specialises exclusively in ServiceNow consulting, implementation, training, and support. We support medium and large organisations from various countries in regional and international markets.
The GuideVision team is made up of more than 200 ServiceNow experts in 7 branches in Europe. GuideVision has a track record of more than 400 successful ServiceNow projects.
We are here to help your organisation grow with solutions for customer service, human resources, business management, operations, and much more. Call us today to learn more.